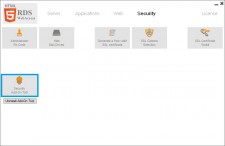 RDS-Tools keeps developing its Remote Access solution for the benefit of the greatest number. Recently a new version has been uploaded. This 11.40 release is a major release that brings outstanding powerful security additions and enhancements.
PRAGUE, August 6, 2018 (Newswire.com) - RDS-WebAccess is a multi-languages web remote desktop access and applications publishing program. Installed in a minute on a server, this software provides secure remote connections for hundreds of concurrent users to Desktops and business applications with any web browser. With integrated and customizable Web Application portal as well as a new dedicated mobile App, users can either use workstation or mobile devices to open their sessions from anywhere, at any time.
Today a new RDS-WebAccess release is out. This 11.40 version fixes all noticeable 11.30 bugs and includes amazing new features that significantly increase the level of protection for all customers and end-users.
The new 11.40 RDS-WebAccess enforces security for Admins and Users
As one of the strongest concern for businesses these days, Security is at the center of RDS-Tools' development strategy. It is their responsibility to protect their partners and users from a crisis due to a breach in their system, especially because data shared on an RDS Server can be very sensitive.
Here are few examples of the most powerful new measures implemented to strengthen security when using RDS-WebAccess solution, in details in the online documentation:
Automatic installation of the powerful security tool "RDS-Knight": a trial version is installed at the setup or Update if the user approves it. The tile to launch RDS-Knight is included on the Security tab of the AdminTool, along with a shortcut on the desktop. After installation of the add-on, its displayed name will be "RDS-WebAccess Ultimate." RDS-Knight Ultimate edition offers five strong measures to shield RDS servers in few easy clicks:

Homeland Access Protection
Working Hours Restriction
Brute-Force Attacks Defender
One click to Secure Desktops
Endpoint Protection and Device Control
Read more on the web page: https://www.rds-tools.com/rds-knight
Enhancement of the Web Portal Security with Credentials Protection: the login password is now automatically encrypted. Plus, every user who enters a wrong password more than 10 times in a row will see his session locked for the next 20 minutes. Of course, these thresholds are customizable with the AdminTool. The process is explained on the online documentation.
More security enhancements were made: Security audits were taken, and components updates were made to even more improve users safety...
RDS-WebAccess 11.40 Optimizes User experience
RDS-WebAccess' most appreciated benefits are its simplicity and its wide range of features and parameters. Anyone can customize the web portal to set a nice "look-and-feel" for users while keeping connections under control. The 11.40 release adds more options for this purpose, listed on the Release note.
The 11.40 release is a MAJOR update. For this reason, we highly recommend downloading it.
For any existing system, run: http://dl-files.com/data/UpdateRelease.exe
or download and try RDS-WebAccess 11.40 for free during 15 days!
Source: RDS-tools.com
Share: