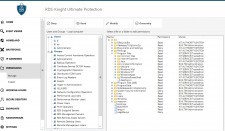 RDS-Knight version 4.3 has been released. It comes with an amazing new feature. The "Permissions" dashboard will give IT admins the tool they were dreaming of to quickly manage Windows permissions without the complications that come with the default Windows permission management scheme. It's the best way to protect sensitive data from malicious people and hackers. Details of this innovation are explained below.
PRAGUE, Czech Republic, September 11, 2019 (Newswire.com) - File permissions are part of Windows security and management that allow network administrators to specify who and what can read, write, modify and access files and folders on a server.
In Windows, permissions are taken care of by the Operating System, which defines, by default, the scope of privileges for each user profile and automatically prevents access to sensitive locations.
There are times, however, when it's necessary to manually configure permissions. Default settings for certain roles and applications don't always follow the best practice of 'Least Privilege.'
That's often the case when organizations use Remote Desktop technology. Complicated permissions management schemes can lead to lax permissions configurations. If important files do not have the best possible permissions in place, successful connection by malicious users can quickly lead to compromised data.
RDS-Knight 4.3 Provides the Easiest Way to Set Files Permissions.
RDS-Knight already offers a wide range of security measures to protect RDS servers, from the Brute-Force Attack Defender to Geo-location and Time-Access Restriction, to Ransomware Detection and quarantine.
The One-Click-to-Secure-Desktop feature included in the Ultimate edition gives the great ability to implement the "Kiosk" mode or other limited user environments in one click (SEE VIDEO).
With version 4.3, RDS-Knight goes further: it introduces the very useful "Permissions" feature, which gives admins the necessary tools to limit user privileges in a matter of minutes. From the new "Permission" tab of RDS-Knight management console, admins will see the list of users and groups and the list of available folders side-by-side. Everything is visible in one spot, which makes it super easy to Inspect (RDS-Knight Essentials) and Edit (RDS-Knight Ultimate) privileges for one user at a time, increasing the accuracy of the restrictions.
It is a great addition to RDS-Knight's arsenal of server security tools. No Ransomware will be able to execute and encrypt a file where the user has limited rights.
Check the changelog for more details: https://dl-files.com/RDS-Knight-changelog.html
Download and Test RDS-Knight 4.3 Now for Free.
Source: RDS Tools
Share: