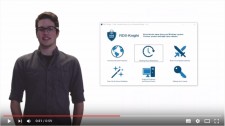 RDS-Tools is thrilled to announce a new five-part video series realized by SilverTree Studios that shows everything RDS Administrators need to know about RDS-Knight, the new all-in-one RDS server security tool
Prague, Czech Republic, May 11, 2017 (Newswire.com) - Part 1 - RDS-Knight Introduces the Working Hours Restriction
There's a fine line between being Big Brother and keeping employees from risking the RDS Server security.
Everything gets even more complicated when the business also depends upon the ability of the employees to work remotely from anywhere and at any time.
But how to manage control of the employees — and what type of control is worth extending over them?
With RDS-Knight, any Administrator can manage which employee has access to what, what time they have access, and how much they have access to. RDS-Knight helps keep unwanted users and devices from accessing the RDS Server, too.
If controlling the Server access is a serious issue, this tool should be at the top of the list for any Administrator.
In this first video, one of the 5 powerful protections covered by RDS-Knight software is detailed: The Working Hours Restriction.
Learn How to Enforce RDS Server Security at night
Of course, employees should be free to connect and to work when they are at their desks.
However, why would they be allowed to access the company's server at midnight?
When the offices are closed, so are the computers.
With RDS-Knight, it is quick and easy to specify the working time of the day when each of the users or groups are allowed to open sessions.
Greatly enhance your server security policies in few clicks with RDS-Knight!
Become a member of RDS-TOOLS YouTube Channel and stay aware of the future video releases.
For more information, visit www.rds-tools.com ​
About RDS-Tools:
Since 1996, RDS Tools has specialized in remote-access technology, expanding its experience and expertise in deployments of all sizes — as large as 35,000 concurrent users.
After investing nearly seven years of R&D developing our flagship products, we are extremely proud to offer our customers such cost-effective and easy-to-use technology to obviate server complexity and deliver a powerful "server-based solution" that runs on any Microsoft system.
RDS-Tools provides 4 brand new technology choices that will greatly help you to deploy your RDS/TSE servers: RDS WebAccess, RDS Print, RDS Shield and Server Genius.
For any questions, comments, suggestions or sales inquiries, please send us an email at sales@rds-tools.com and we will be pleased to answer you.
— by Floriane Mer, Marketing Manager at RDS-Tools
Source: RDS-tools.com
Share: