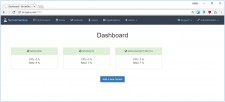 RDS-Tools is happily closing 2017 which has been rich in improvements and technological advances. And what is the best way to start the new year with a brand new version of its powerful tool for monitoring and reporting Remote Desktop connections? With this 2.1 update release, Server Genius has been completely redesigned to provide a more complete, more accurate and easy-to-master application.
Prague, Czech Republic, January 4, 2018 (Newswire.com) - The Easiest Remote Desktop Reporting Solution
Server Genius is a unique solution developed by RDS-Tools, providing monitoring and reporting for RDS.
Installed on your Servers, it captures all data and provides analytics about users activity and applications used on a Windows remote session. It is the "must-have" tool for RDS Administrators seeking for a clear and reliable reporting of their RDS Servers' environment. Server Genius checks in real-time the CPU, memory, network performances, storage status and all important parameters allowing to anticipate any critical issue with the remote servers. For example, a defect could occur with licensing, bandwidth consumption or one specific application usage. These information are then compiled into compressed and scaled analytics for an easy understanding, and sent by email to the Administrator. The data can also be consulted via the Server Genius web interface, which offers complete reports in an intuitive format.
Server Genius 2.1 Introduces a New Design and Major Improvement
Server Genius has been deeply reviewed to offer an optimal Remote Desktop monitoring tool, with a faster and better scalability.
The main improvement on this new version consists in the ability to follow-up multiple servers at the same time, and get all the reports, centralized into the Server Genius Web interface.
This is concretized by a new "dashboard" homepage, that allows to check in a glance the global situation of all connected servers, in real-time. Of course, in case of any update on the main Server, all agents that are download on one server are automatically updated on the other monitored Servers. This update also includes new features and measurements, such as a graphic showing bytes traffic on each Server Card.
To illustrate these changes, the software is displaying a radically different look: besides the new shape of the logo, which is now a chemist' flask, referring to the Genius aspect of the product , Server Genius presents new graphic lines and colors, for a more sleek and attractive interface.​
Monitor Remote Sessions at a glance and troubleshoot damaging issues faster with real-time alerts directly sent to your inbox.
And get a trial version for free!
The Server Genius 2.1 basic license provides monitoring up to three servers.
Source: RDS-tools.com
Share: