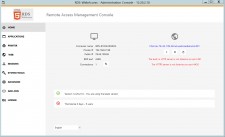 RDS-Tools reveals big changes for 2019. The team of expert developers, with input from users and administrators, have decided to bring their product line a new look, starting with RDS-WebAccess. A new administration tool with a refined workflow makes management easier than ever before. Read further to discover some of the highlights of the newest version of RDS-WebAccess.
PRAGUE, February 21, 2019 (Newswire.com) - In 2018, RDS-WebAccess development focused on three key points: Mobility, Security, and Scalability. Today the RDS-WebAccess can be easily used on any type of device. A common user experience makes the transition from one device to another consistent and reliable. It has passed several security audits and includes many options to lock down remote sessions and protect servers from multiple types of cyber threats. Last but not least, the Development Team performed important work on the RDS-WebAccess Alternative Shell to maintain compatibility with future versions of Windows.
RDS-WebAccess 12 Introduces a New AdminTool
In 2019, RDS-WebAccess continues to build on the achievements of last year, with a renewed focus on quality and professionalism. RDS-WebAccess version 12 is a big step in this direction. The interface of the Administration Tool has been completely redesigned to provide a management console that is comprehensive, simple, and clearly organized. IT Administrators are going to be pleased with the fresh new look updated features.
With a new look and streamlined access to the core features, the RDS-WebAccess Version 12 Interface was designed with three main objectives in mind.
Modern and User-Friendly Design: At once clean and functional, using modern design language to make management a breeze for administrators.
Easy and Intuitive Navigation: Tabs are now displayed in a bar on the left side of the Administration Tool. The lexicon used is obvious and logical.
Simplified Management: Features have been reorganized to present settings in a more logical way, making it easier for Administrators to configure a server quickly and simplify regular management operations - the most used features are more visible, the most used settings are pre-selected.
(SEE SCREENSHOT)
Larger than previous versions, RDS-WebAccess 12's interface displays clearly 9 different features accessible via the tabs on the left side:
HOME: The homepage offers a real dashboard, displaying the most important information about the software and allowing quick actions on the server. It also includes an automatic audit of the local system to make sure everything is running normally as soon as the administrator starts the Admin Tool.
APPLICATIONS: The Application tab is a new addition to the top level menu that creates a central management console for application publishing. With just a few clicks the administrator can publish a new application or manage his existing apps.
PRINTER: The amazing Universal Printer feature finally gets the place it deserves! The RDS-WebAccess Universal Printer makes it possible for users to print from within their published applications, using any device and any printer. With version 12, all of those great features are easier than ever to manage!
WEB: Continuing toward the goal of simplifying administration tasks, the web tab has been redesigned. From the free SSL certificate generator to management of the RemoteApp client, manage all web activity from the new Web tab.
SESSIONS: Session and User Management made easy. Administrators can easily manage user access levels, groups, and session types all in one place.
SYSTEM TOOLS: Direct access to basic Windows system administration tools in a snap.
ADVANCED: Created for experienced IT Administrators, this tab offers a quick and easy way to add specific parameters and values directly to the RDS-WebAccess program code.
ADD-ONS: Administrators can integrate additional programs and benefit from the ultimate Remote Access Solution with RDS-Knight, Server Genius, and the amazing new Two Factor Authentication tool!
LICENSE: Allows administrators to quickly check on the status of their server's license. As business grows and needs increase, the license manager includes a clear upgrade path to help keep resources scaled to needs.
Security Above All Else
In addition to a great new look, RDS-WebAccess 12 offers an enhanced suite of Add-ons.
For the developers of RDS-WebAccess, security has long been the top priority. Administrators can select from a wide range of options to enforce protective rules for their users and remote servers. As few examples of the tools available: Active Directory, Web credentials, SSL certificates. With powerful security Add-ons like RDS-Knight and Two Factor Authentication, remote access can be made more secure than ever before.
RDS-Knight Locks down RDS Servers
RDS-Knight is a formidable security toolbox, with a suite of protective features ranging from Brute Force Attack Protection to the latest in Anti-Ransomware Tools. Check the website for more details about RDS-Knight.
Following the path set out in 2018, RDS-WebAccess' Development Team gave its users one more fantastic feature to start the new year!
Add Two Factor Authentication to Your RDS-WebAccess Portal
As the bad guys get smarter and attack with better tools, passwords often aren't enough to keep remote sessions secure anymore. Two Factor Authentication adds an extra layer of security by combining two different factors:
A Password
A Mobile Device (such as a smartphone) - with an authenticator app installed.
Each time a user signs into a remote session via the Web Applications Portal he or she will need to enter a password and a code provided by an authenticator app on a mobile device.
Since 1996, RDS Tools has specialized in remote-access technology. RDS Tools provides the easiest-to-use and most cost-effective tools available to assist in exploiting the ever-increasing power and economy of today's computing hardware.
For more information, please visit RDS-Tools' web site at - rds-tools.com
Source: RDS-tools.com
Share: